If you tour the grounds at the University of Massachusetts Amherst, you'll come across some of our team's best work. In fact, over the last 15 years, we've been fortunate enough to provide services on more than 30 projects throughout the commonwealth's flagship campus. To celebrate our longstanding relationship with the university, we're sharing some of our favorites.
Football Performance Center
For decades, students, alumni and visitors have descended on McGuirk Alumni Stadium in the fall to watch UMass Amherst football. In 2014, the Football Performance Center opened near one of the field's end zones—providing a new backdrop for kickoffs and touchdowns on cold autumn afternoons.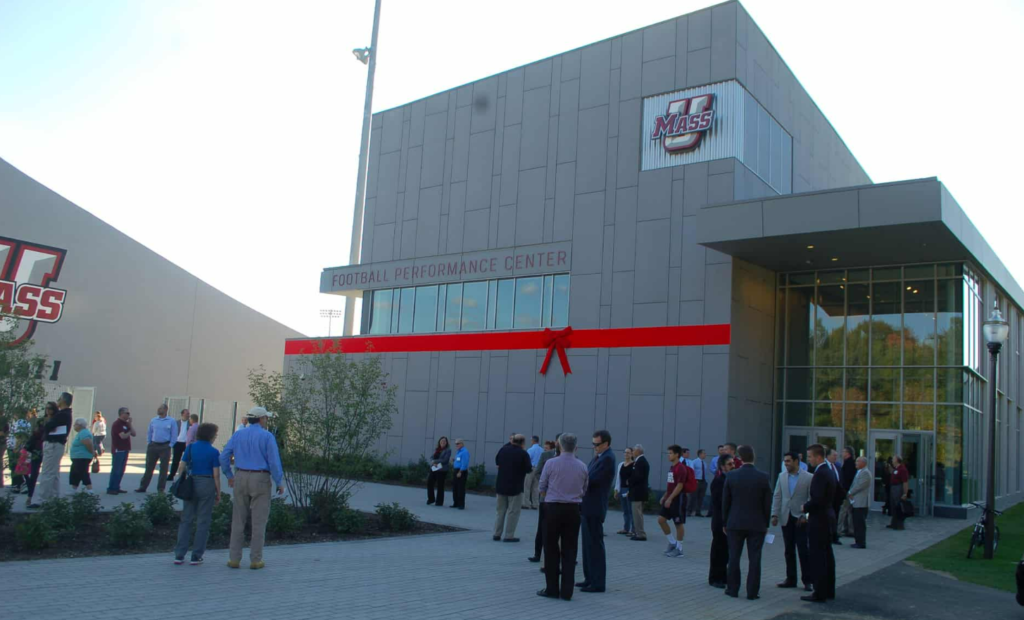 A central hub for the football team, this 55,000-square-foot building includes enhanced amenities for student-athletes, such as strength and conditioning areas, a sports medicine facility, auditoriums for team meetings and a player's lounge. It even features a press box for the media.
Our team provided exterior sheathing, roof blocking and framing on the performance center, as well as interior framing. We also installed wood blocking, in-wall blocking, hollow metal frames and door hardware throughout the building.
John Francis Kennedy Champions Center
Right next to the Mullins Center—the large indoor arena where UMass basketball and hockey host their home games—sits the relatively new John Francis Kennedy Champions Center. This 55,000-square-foot building opened in 2015 and houses the practice and training facilities for the school's men's and women's basketball squads.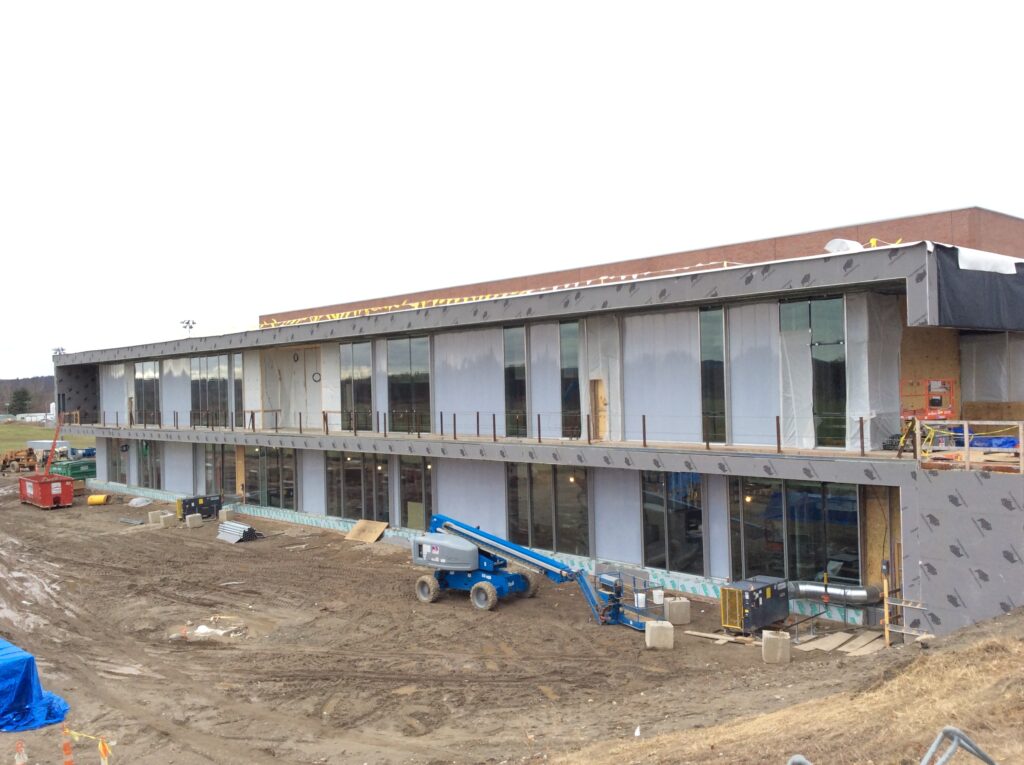 Inside, the center has two full-sized basketball courts, five smaller practice courts, sports medicine and weight training areas, a player's lounge and much more.
We had the privilege of contributing to the building's recent renovation, providing drywall, finishing, hollow metal doors and frames, and door hardware to the interior. Our exterior work included cold-formed metal framing (CFMF), sheathing and direct-applied exterior finish systems (DEFS).
Old Chapel
Located at the heart of the UMass campus, the Old Chapel opened in 1885 and is featured on the National Register of Historic Places. The building closed in 1996, but we had the honor to work on a $21 million renovation and preservation project that began in 2015.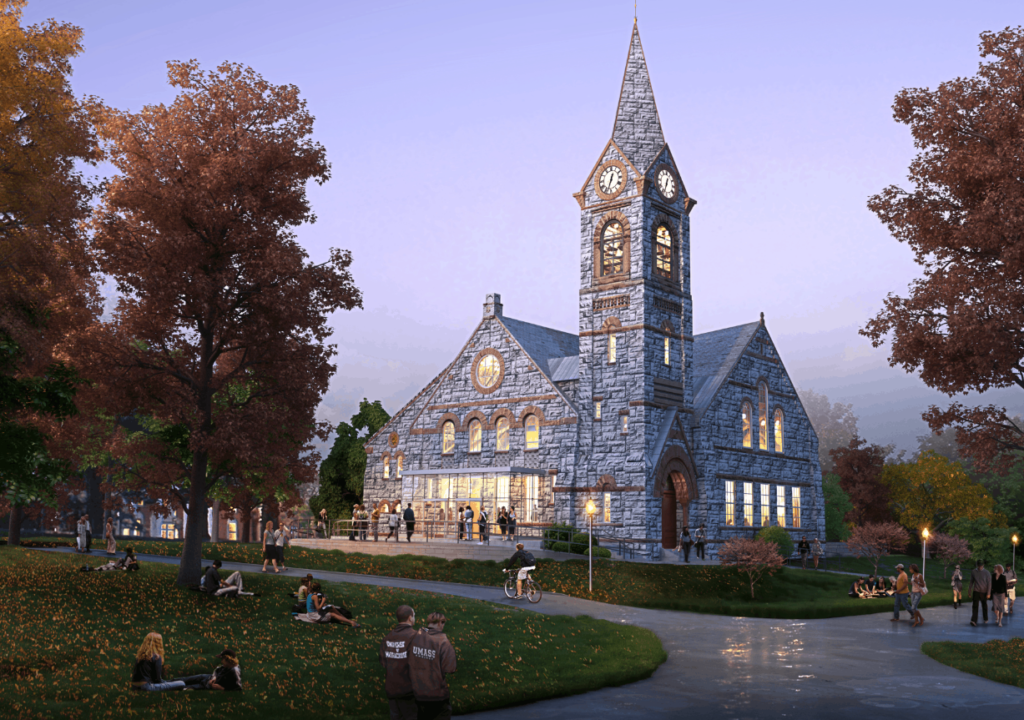 We installed all CFMF, sheathing and roof blocking in the Old Chapel's exterior, and provided layout, framing walls, soffits, drywall and finishing on its interior. We also installed some specialty items, such as wood stairs, acoustical ceiling tiles (ACT) and BASWA acoustical plaster systems.
John W. Olver Design Building
The John W. Olver Design Building opened its doors in 2017 and houses the university's Department of Architecture, Department of Landscape Architecture and Regional Planning and Building Construction Technology program. The largest academic wood structure in the United States, this remarkable building is the first in the United States to use wood-concrete composite floor systems.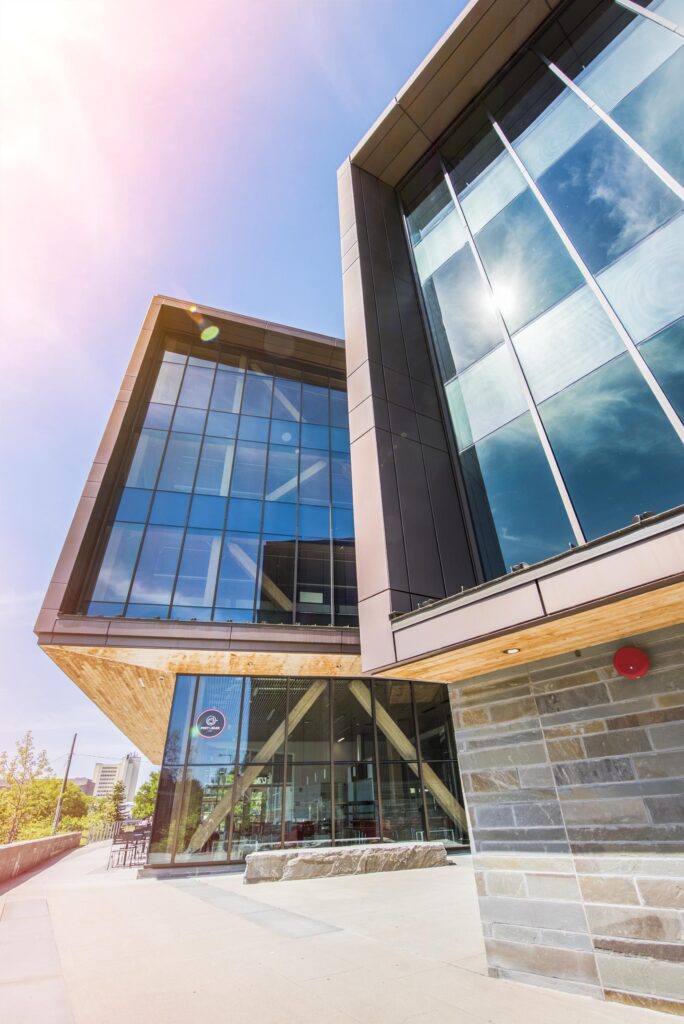 On this project, we provided door frames, doors and drywall; in-wall and roof blocking; and exterior and interior framing.
Business Innovation Hub
A relatively new fixture on the Haigis Mall at UMass Amherst, the Isenberg School of Management's Business Innovation Hub opened in 2019 and is a meeting and learning space for all business students.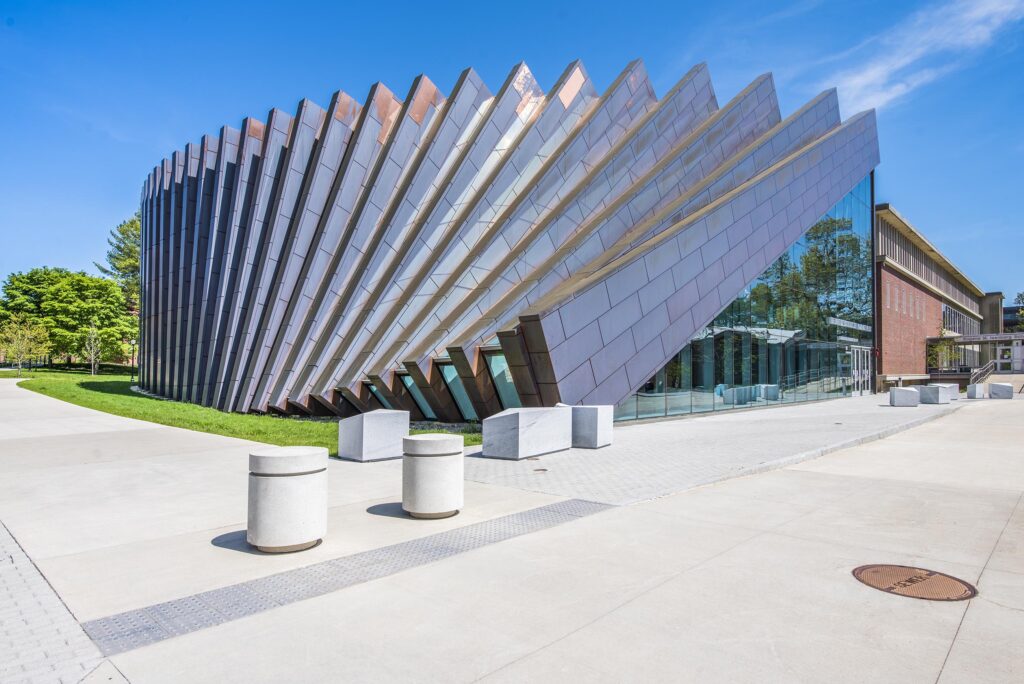 This 75,000-square-foot building brought new classrooms, labs, faculty offices and more to Isenberg. In addition to framing the interior and exterior of this building, our team installed metal panels on the exterior and was responsible for the interior drywall. We also completed roof and wall blocking and installed door frames and doors.
Work With Us
We helped make these UMass Amherst upgrades a reality; learn how we can do the same for your next project. Reach out today, and let's get started.