Two years ago, in July of 2021, we expanded our footprint into New York State by opening an office in the town of Malta. Over the past two years, we've proudly made a name for ourselves in the region. Under the leadership of Regional Manager Randall Berkebile, our team has had the privilege to work on several state-of-the-art projects.
Regional Manager Randall Berkebile
 "It's an honor to have been able to lead the charge and establish PDC's presence in the capital district and beyond," said Berkebile. "Since 2021, our clients have recognized and acknowledged our extensive capabilities, and we've continued to build new relationships as word about the quality of our work spreads. We're very excited to see what the future holds."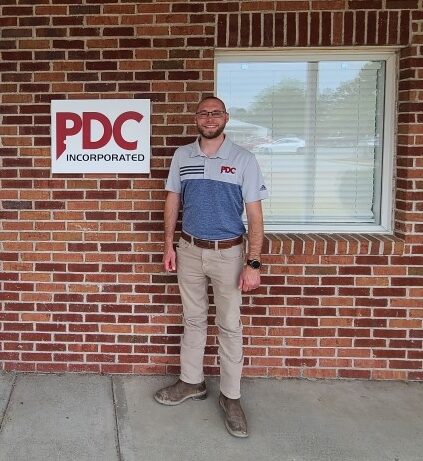 The expertise and skill that made PDC a name in Massachusetts more than 25 years ago are now known throughout the Albany region. Here's a look at all we've accomplished as we celebrate our new business in New York.
Regeneron Pharmaceuticals Inc., Building 27 (Completed)
Regeneron Pharmaceuticals Inc. is an American biopharmaceutical company headquartered in Tarrytown. Founded in 1988, the company is known for its expertise in the discovery, development and commercialization of innovative medicines. When the company expanded its Tempel Lane Campus in East Greenbush, we performed all the exterior and interior framing, exterior sheathing, drywalling and ceiling grids installation. We put in the doors and hardware and applied fire caulk and acoustic sealant.

Dyson Center, Marist College
The Dyson Center for Entrepreneurship and Innovation is a prominent center at Marist College in Poughkeepsie. It serves as a hub for fostering entrepreneurial spirit, innovative thinking and business development among students. A massive undertaking to rebuild the center included an adaptive reuse of existing foundation and structure, highly insulated walls, a high-efficiency HVAC system and a roof featuring living vegetation. Our team was integral to the project, installing cold-formed steel framing, LGMF, drywall, exterior panel, ceilings, specialty ceilings, doors and hardware.
Office of Rensselaer County (Completed)
The Office of Rensselaer County is the governing body responsible for overseeing and managing the operations within the region. Our team was involved with the renovation of their primary headquarters at 99 Troy Road in East Greenbush, performing all the framing, installing drywall and ceilings and putting in the doors and hardware.
1600 Troy Road and 1701 Troy Road
Our good working relationship with Rensselaer County and the quality of our work at 99 Troy Road have led to an expanded partnership. We were awarded similar renovation projects for the County at 1701 Troy and 1600 Troy, renovating former Cornell Cooperative Extension buildings into office spaces. We are performing framing and taping and installing drywall, doors, hardware, ceilings and wood blocking.
Awosting Hall, SUNY New Paltz
New Paltz
Awosting Hall is situated in the heart of the SUNY New Paltz campus and provides housing for undergraduate students. It's a traditional-style residence hall, meaning it offers shared rooms and common areas for students to socialize and interact. The Awosting project is currently in late-stage renovations to increase bed capacity, upgrade livability, improve accessibility and achieve LEED certification. As part of this project, we installed drywall, insulation and exterior sheathing.
Additional Completed Projects
Other regional jobs we have completed include:
MyForest Foods Co., Saratoga (drywall, framing, taping)
CDTA Bus Lunchroom, Albany (drywall, framing, ceiling, taping, doors/hardware)
General Services Administration, Malta (drywall, framing, taping, ceiling, doors, hardware)
Waterford-Halfmoon Union Free School District, Waterford (drywall, framing, taping)
Continuing Growth in New York
Our regional footprint continues to grow with drywalling, framing and more for these current and upcoming projects:
Central Hudson Primary Control Center, Lake Katrine
Schenectady High School, Schenectady
Shenendehowa Central School District, Clifton Park
Stanford Heights Fire Station, Schenectady
Starbucks at River's Casino, Schenectady
Stratton ANG C-130 Flight Simulator Facility, Glenville
We helped make these New York projects a reality and can do the same for yours. If you're interested in partnering with us on your upcoming construction project, reach out today.